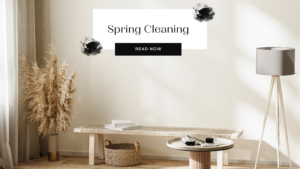 Here is a list of spring cleaning household chores that you can use as a starting point:
Inside the house:

Clean the ceiling fans and light fixtures.
Dust the furniture and surfaces.
Vacuum the carpets and rugs.
Mop the floors.
Wash the windows.
Clean the appliances.
Declutter and organize the closets and drawers.
Wash the bedding and towels.
Clean the bathrooms.
Clean the kitchen.

Outside the house:

Rake the leaves.
Mow the lawn.
Weed the garden.
Wash the patio furniture.
Clean the gutters.
Power wash the siding.
Seal the driveway and walkways.
Check the caulk around windows and doors.
Inspect the roof for damage.
Check the sprinkler system.
Clean the pool or hot tub.
This is just a general list, and you may need to add or remove items depending on the size and layout of your home, as well as your own personal preferences. But by following this list, you can make sure that your home is clean and fresh for the spring season.
Here are some additional tips for spring cleaning:
Start by decluttering. This will make it easier to clean and will also help to free up space in your home.
Break the cleaning up into smaller tasks. This will make it less overwhelming and will help you to stay on track.
Take breaks. Don't try to do too much at once, or you'll just get tired and frustrated.
Delegate tasks to others. If you have family members or friends who are willing to help, let them know what needs to be done.
Put on some music or an audiobook to make the time go by faster.
Reward yourself for completing each task. This will help you to stay motivated.
Spring cleaning can be a lot of work, but it's also a great way to give your home a fresh start. By following these tips, you can make the process easier and more enjoyable.