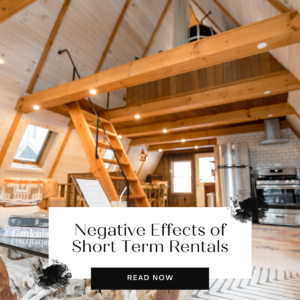 Airbnb has become a popular way for people to travel and for homeowners to make extra money. However, there are also some negative effects of Airbnb on small towns.
One of the biggest concerns is that Airbnb can drive up housing costs. When more people are renting out their homes on Airbnb, there are fewer homes available for long-term residents. This can lead to higher rents and make it more difficult for people to find affordable housing.
Another concern is that Airbnb can change the character of a neighborhood. When there are a lot of short-term rentals in a neighborhood, it can make it feel less like a community and more like a tourist destination. This can be disruptive to longtime residents and make it difficult to build relationships with neighbors.
Airbnb can also lead to noise and parking problems. When there are a lot of people coming and going from short-term rentals, it can be noisy and disruptive to neighbors. Additionally, short-term rentals can take up parking spaces that could be used by residents.
Finally, Airbnb can lead to a decrease in local businesses. When people are staying in short-term rentals, they are less likely to eat at local restaurants or shop at local stores. This can hurt the local economy and make it more difficult for small businesses to survive.
Overall, Airbnb can have some negative effects on small towns. It is important to be aware of these effects before deciding whether or not to use Airbnb when you travel.